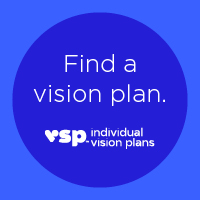 If you need glasses or contacts and don't have a vision insurance, you still have options. Vision insurance is not as expensive as some people think. Capitol Eye Care Center is proud to be a Premier member of the Vision Service Plan Network, the largest vision insurance provider in the nation.
In 1955, a small group of optometrists had a vision to provide access to affordable, high-quality eye care to the world. They formed the first prepaid, not-for-profit vision benefit company, California Vision Services, the precursor to Vision Service Plan (VSP). Over the past 60-plus years, that vision has evolved into VSP Global, a doctor-governed company that exists to create value for members and opportunities for VSP network doctor.
Need insurance right away? Click on the icon above and you will have an opportunity to be part of VSP within minutes.